Regular price
Sale price
$79.00 USD
Unit price
per
Sale
Sold out
"The most gentle and relaxing cleanse ever! My skin looks noticeably brighter after just one use!" - Amanda Y
Cleanse, Exfoliate, and Massage with Miglo. The MiGlo is a waterproof facial cleansing massage device with 5 speeds of ultra-soft medical-grade anti-bacterial bristles that will deeply cleanse your skin without causing any irritation. Sonic vibration ensures that the gentle bristles massage and penetrate the pores to ensure that 99% of dirt and makeup are removed.
- Visibly improve skin texture & elasticity

- Prevent acne and breakouts
- Remove up to 99% of dirt, oil, and makeup residue
SKIN BENEFITS

- Instant results, noticeably softer skin after the first use

- Reduces Facial Tension

- Sonic vibrations thoroughly cleanse and massage

- Minimize the appearance of blackheads

- Removes Makeup 

- Firm, Lift, & Tone the skin
FEATURES & DETAILS

- 5 variable sonic massage levels

- 100% Waterproof

- Double Sided Medical grade silicone body
- No replacement brush heads needed

- Long lasting rechargeable battery, up to 500 uses per charge
HOW TO USE

Step 1

Rinse Miglo under water, and apply your facial cleanser directly to the brush or to your face.

Step 2

Turn Miglo on by pressing the power button on the front. It will automatically start at the medium speed setting. Use the (+) and (-) buttons to adjust the massage intensity.

Step 3

Use Miglo, in circular motions, for at least 1 minute to gently clean away any dirt, excess oil or makeup residue.

Step 4

Rinse and pat your face dry, then apply your favorite facial oil or serum.
View full details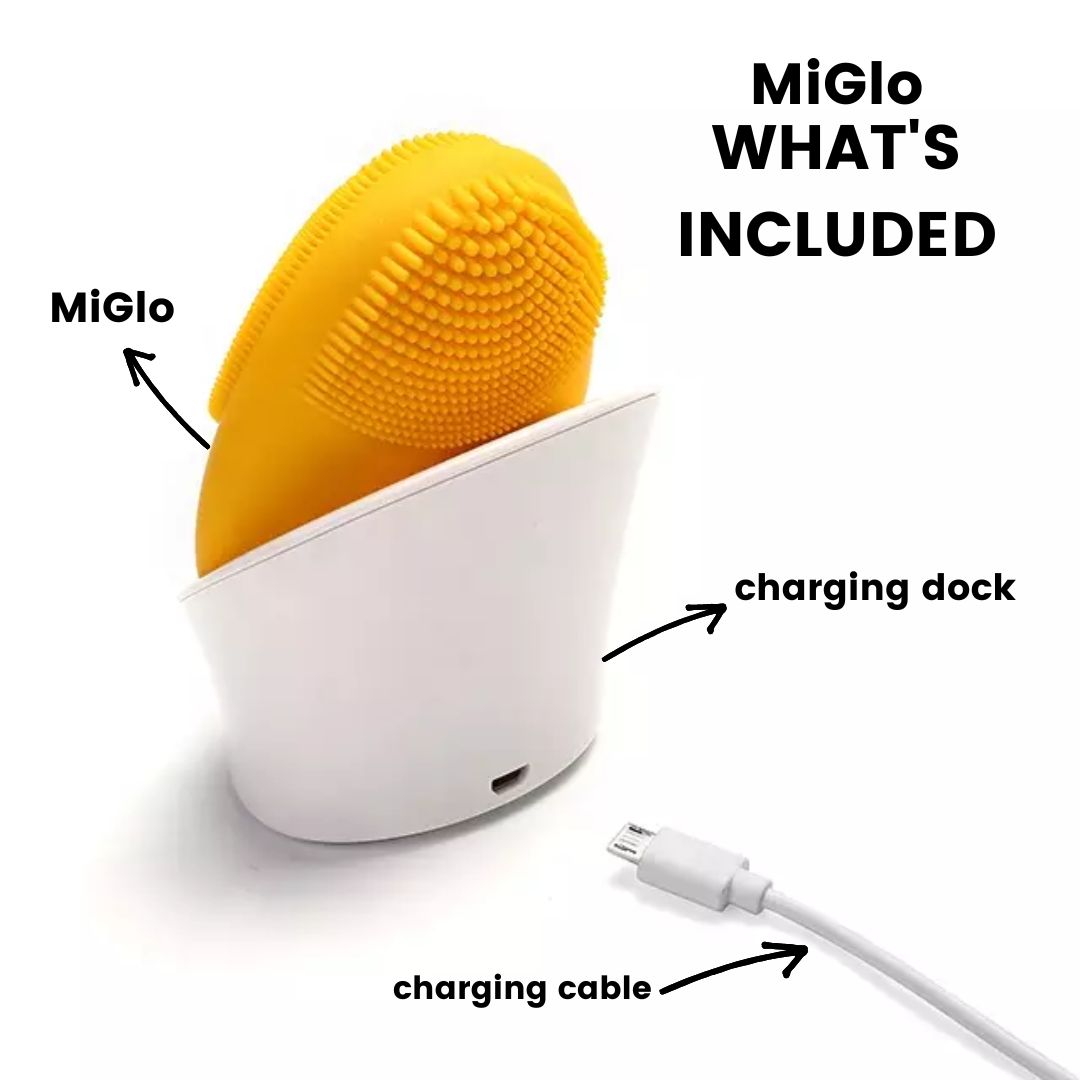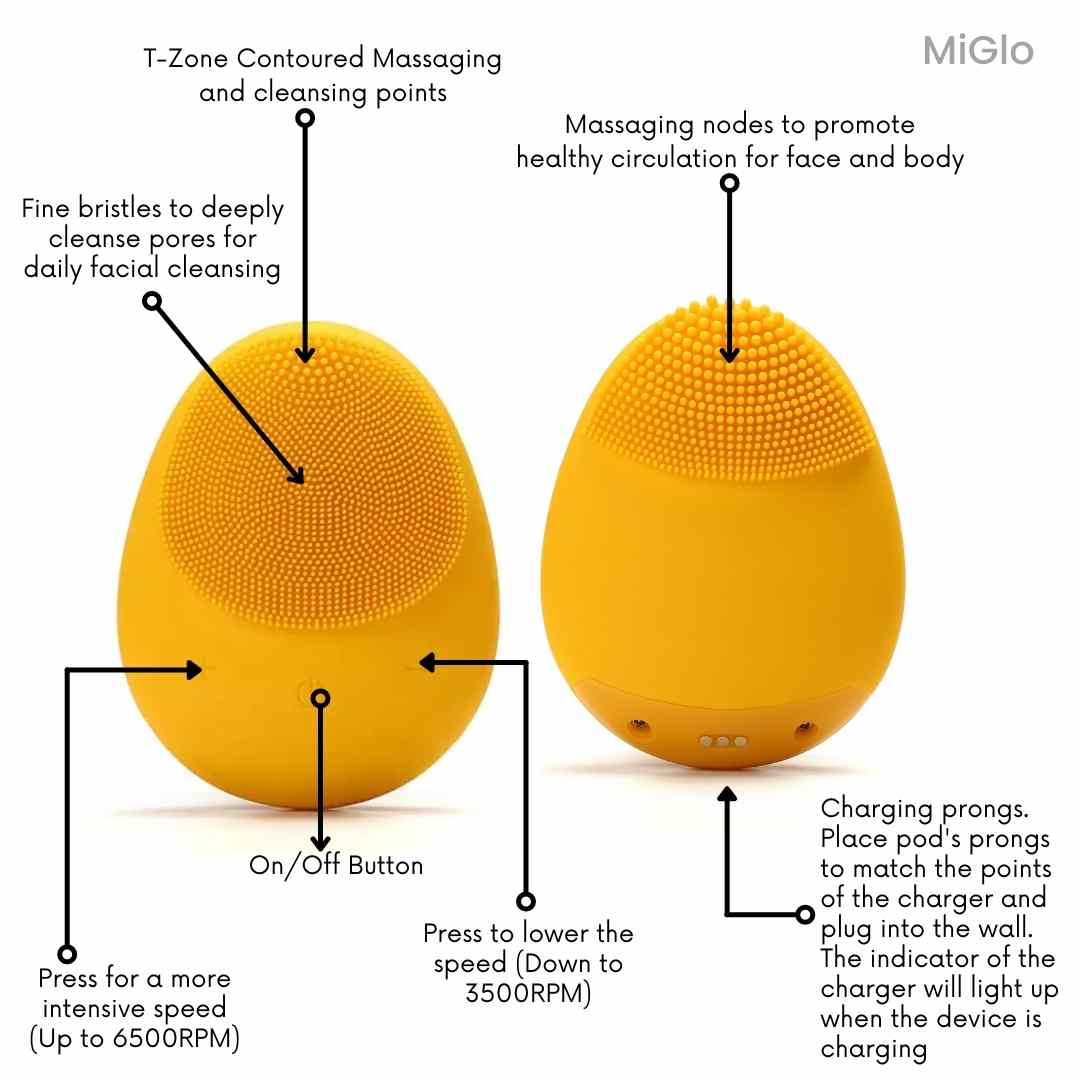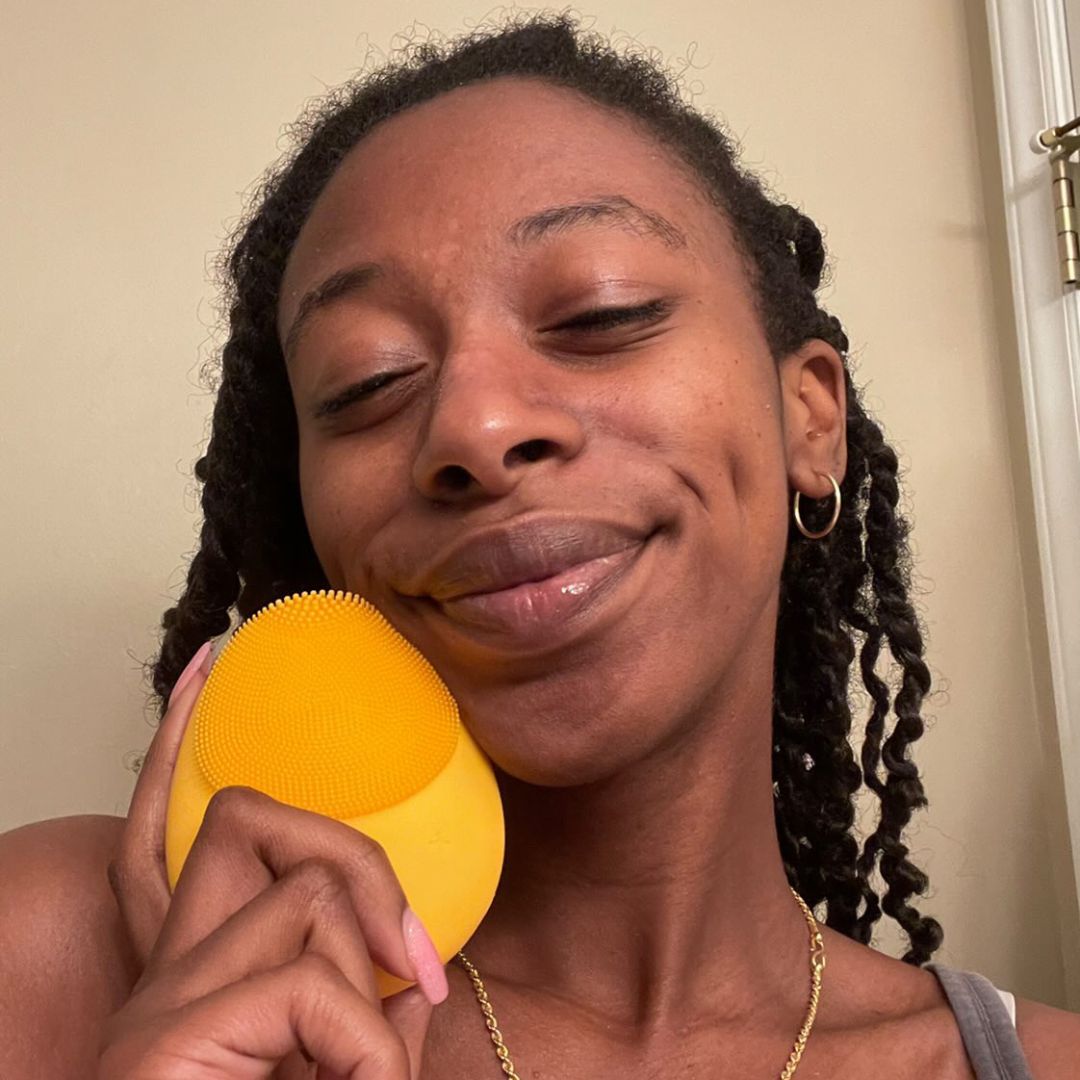 REMOVES 99% OF DIRT, OIL, & MAKEUP
3-in-1 cleansing, exfoliating, massaing device. Made of hypoallergenic soft silicone, it's the most hygienic and gentle facial cleansing device ever.

Turn your Miglo over to transform it into a facial massage device, gently massages your skincare deep into your skin.
Your Questions, Answered
Why does Miglo have 2 sides?

Miglo has two surfaces. The surface on the same side as the power and speed buttons is softer for gentle cleansing, and the back side is firmer ,designed for using on your neck and body area for a deeper clean.
Is Miglo waterproof? Can I use in the shower?

Miglo's IPX6 water-resistant design means you can safely use this device in the shower or bath, as well as clean it by simply by running it under water.
How often should I use Miglo?

Miglo is safe for all skin types, especially sensitive skin. Use Miglo up to twice a day, am and pm, with a foaming cleanser. Adjust the 5 massage intensities to your preference.
How do I clean Miglo?

Clean Miglo with soap and water simply by running it under water. Rinse with water after each use.
Great Product
Love this small but mighty cleansing brush
love using it daily!
I use my miglo every day really makes my skin feel soft and clean
my face texture has changed for the better
I love the way miglo deep cleans my pores! The texture of my face has improved greatly! I am addicted to my miglo brush!
cleanse well
As an older female, I love this to clean my face. It's a soft bristle scrub that cleans all my oil and make up off.
Must use daily
Love the relaxng facial massage I get from this little gem twice a day! Definately worth the investment. Miglo cleanses perfectly every single time. Buy two, one for the shower and one for the sink! Feels wonderful on the skin and cleanses very well. I Highly recommended!